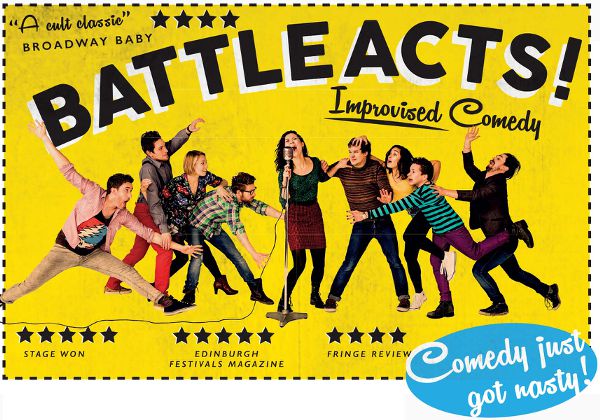 BattleActs – Improv Theatre

BattleActs! is an award-winning, multi-five star comedy show that has performed to rave reviews around the country. The show sees two teams of fearless improvisers pitched against each other by a ball-busting compere. Each team attempts to prove their worth and battle it out for the ultimate prize: the audience's respect!
Recommended by The Independent (Top Ten Comedy Shows), TimeOut (Critic's Choice) and a Smirnoff Hot Pick, this hilarious, no-holds-barred improv smackdown is not to be missed.
What the Press say:
• "Superior improvised comedy… Thank God for BattleActs!" – Fringe Review
• "Rapidly en route to becoming something of a cult classic, one of the most entertaining late night acts" – Broadway Baby
• "Extraordinary improv, kitsch, cool and unpretentious – wit and ingenuity that's nothing short of admirable." – Brixton Buzz
• "Intelligence…sheer energy. You might just have to fight the crowds as the troupe become ever more popular." – Stage Won
• "Spirals into a brilliant silliness, an enigmatic and compelling riot of exquisitely absurd, original comedy. In a league of their own." – Edfringe Review
• "Fast-paced, witty and very imaginative" – A Younger Theatre
• "Improvisational comedy champions… intelligent, quick paced series of spontaneous one liners that most comedians couldn't have written given a week." -ThreeWeeks
• "Sheer madness and utter genius" – The Public Reviews
* * * * Stage Won
* * * * Edinburgh Festivals Magazine
* * * * The Public Reviews
* * * ThreeWeeks
* * * Broadway Baby
* * * Fringe Review
* * * Ed Fringe Review
AWARDS: • StageWon Editor's Award • Independent on Sunday – "Top 10 Comedy Act in the UK" • Smirnoff Hot Pick • TimeOut Critic's Choice • TimeOut Most Viewed • FringeReview "Highly Recommended" • Spiked Online – "Best Free Show" • Winner of the Manchester Impro Tournament • Winner of the Leicester Square Theatre Improv Smackdown Internacionale