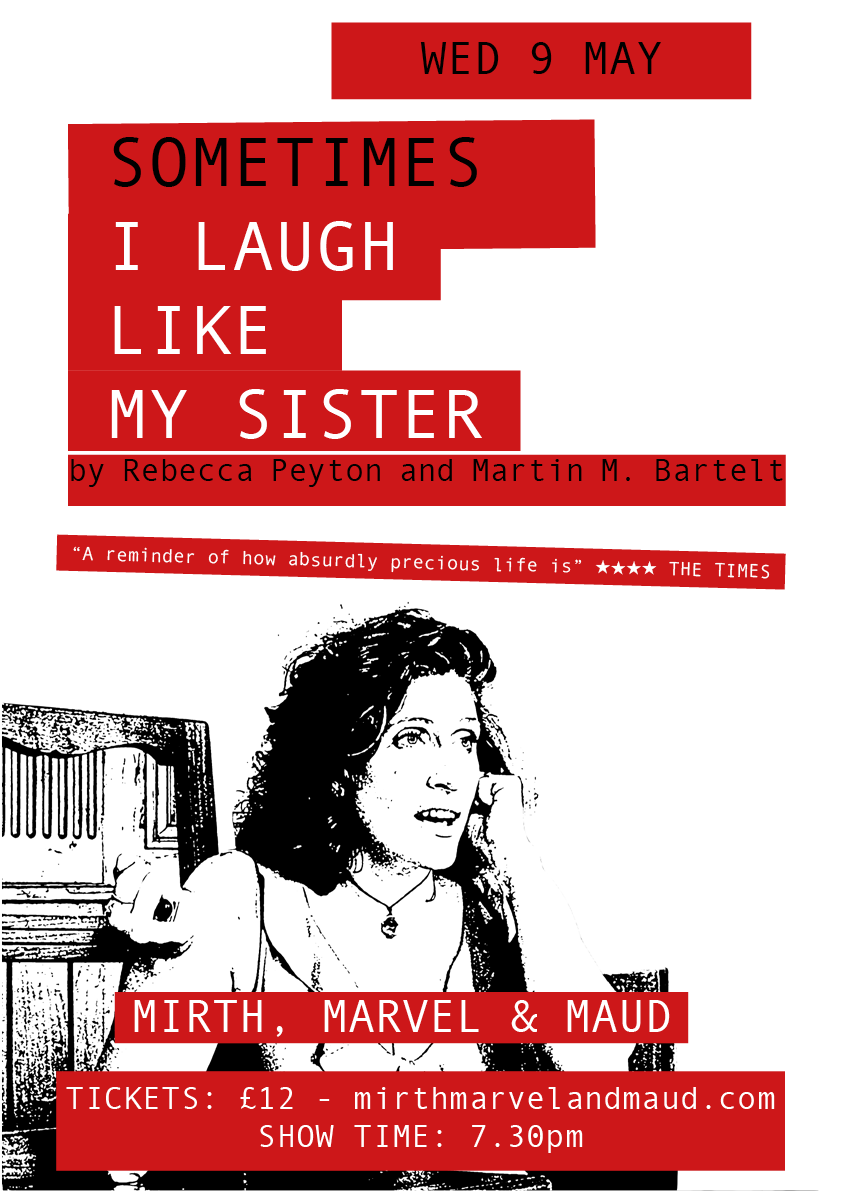 Sometimes I Laugh Like My Sister by Rebecca Peyton and Martin M. Bartelt

'Sometimes I Laugh Like My Sister'
by Rebecca Peyton and Martin M. Bartelt
….a little show about death and other taboos….
Rebecca, 32, Self employed, based in London, UK
Kate, 39, BBC news producer, based in Johannesburg, South Africa
In February 2005 a BBC journalist was murdered in Mogadishu, the capital of Somalia.
Her name was Kate and she was Rebecca's big sister.
This is a story about politics, journalists and death, – told through the eyes of Rebecca, whose sister was stolen from her by faceless gunmen with no compunction about shooting a non-combatant in the back. It's about politics, racism, migration, women's rights and censorship, it's about drinking yourself silly so that you can dance with abandon even as grief consumes every element of your personality. It's about leaving the house looking like you've been run over by a tractor, deciding not to have a drink for breakfast, press freedom and human rights.
Rebecca invites us into her post Kate world as her life goes on, changed forever but inexorably, it goes on. She shares with us her personal philosophy, gives us tips for daily life and explains her foolproof method of getting a London plumber to turn up the next day. She shares with us her dreams, hopes and fears and her very particular guide to dealing with funerals and weddings…
These days Rebecca finds herself tripping over people's taboos like a hippo in a tutu, as she names our fears and articulates the unspeakable, crashing through social niceties to name the impermissible. Her vulnerability no longer holds fear for her. She has learnt that self-censorship is as dangerous for freedom of expression as more obvious forms of censorship.
It's an adventurous, tragic, funny, but most of all honest story. It's a story that wants to be told. And, through casting out her own ghosts – she can speak for the voiceless, including the journalists who can't open their mouths for fear of losing their livelihoods.
Welcome to Rebecca's world!
"A piece of honest to goodness theatre that's brim full of honesty. And goodness." [Dave Gorman]